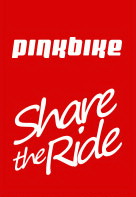 Die 2014er Spende ging an Share the Ride. Als absoluter Radlfan war ich sofort von der Idee begeistert und hatte somit mein 2014er 1%-Ziel gefunden. Aber schaut doch einfach selbst auf die Website von Share the Ride und vielleicht unterstützt ihr die Idee ja auch… ganz noch dem Motto:
We are cyclists from all over the world,
uniting to share the ride.